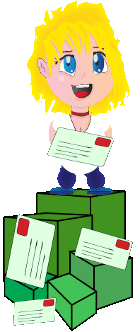 Sassociations -- Latest Ads
Page 1 ( 1 - 20 of 100 )
1 - Eunice (58/F) - 2019-07-19 17:26:52
United Kingdom
Email:
Hobbies/Interests:
penpalling, reading, writing music, TV, walking
Introduction:
Hello! I'm a 58-year-old woman, married, with a grown-up daughter, living in Wales. We have two cats and five hens. I'm a Pagan, but I don't evangelise and I'm happy to write to people of any religion, or none.(I decided to say that, as sometimes people may be offended if they don't realise from the beginning that I am not a Christian.) I am interested in snail mail penfriends from any country. But ladies ONLY please. No men and no prisoners. I am serious about this. If any men email me, I will ignore them. Please do email me if you are interested in writing to me. (But ladies only.)
2 - Araminta (18/F) - 2019-07-19 17:03:41
France
Email:
Introduction:
I'm looking for a guy TO BE MY VIRTUAL SLAVE. Must have athletic / muscular body, be 18 - 30 years old, and obey my orders. Message me~ P. S. My name is Araminta, I have dark hair, brown eyes and slim figure. 20 years old.
Updated since 2019-06-03 05:10:52
3 - Griffith A. Gabriel (27/M) - 2019-07-19 15:51:36
Ghana
Email:
Languages:
English
Introduction:
Hello, Greetings to you all.. My name is Gabriel. I'm a caring, kind and simple guy. In this world, everybody needs somebody to share ideas with, encourage, share special moments with and so on.. I would like to meet new friends to share with them everyday experiences, ideas, fun and more :) I love to do research, study online & wish to learn other cultures by making new friends. I wanna meet friends from all over the world irrespective of your country, age, color or whatsoever. We are all one people with the same red blood circulating in our systems. Just send me an email now and i will respond as soon as possible. I also like snail mail. its actually fun to receive letters with handwriting from friends. Just drop a message with a little self description if you find me interesting and let's start from there.. Waiting to read your email soon. Thanks!! Gabriel :)
Updated since 2018-02-20 13:20:15
4 - Manhike Chicago (41/M) - 2019-07-19 15:37:52
United States
Email:
Tom Bradway c/o Mister Trenda
p. o. box 528007
Chicago Il., 60652
U. S. A.

Introduction:
Hoping for a man buddy(old aged ok too), I possess perfect health since birth(aimed for becoming an escaper>name in health books for one who makes it to 100 without ever having a disease), single adult gentleman, sharer of books, is/forever was>a walker/hiker pausing for a cognac with Asian appetizers; or Popeye's, do you love wading beaches/us exploring gardening/fishing/your hopes, ideas? I ignore people pictures, mystery goes further. Writings sounding for others too or text sized messages without one different detail; will be blocked.
Updated since 2018-06-10 18:11:19
5 - Thomas (42/M) - 2019-07-19 13:07:07
United States
Email:
Languages:
English & Other
Hobbies/Interests:
writing, music, movies, exercise, internet and gaming
Introduction:
Hi there you female writer, friendship for a day dreaming connection. Writing is fun and creative, so seek me out you female longing like me for a friendship that is more intimate and affectionate, caring. I am a sensitive and lonely guy, nice and my vision for this is specific. My name is Thomas, a Swedish guy in USA, and welcome to my pen pal ad, I love writing and if you do too, email me if you want a writing fantasy with person thoughts and feelings and not the usual about daily life. A fantasy in writing is about imagination of comfort, affection for the feeling and moments we create together long term. I want a intimate friendship with a woman that loves to write and for long term seeks a connection with me, sharing of words, feelings, the charm you have. In equal ways I look at the personal connection of feelings here, the depth of thoughts and the connection on an intimate level of caring. Are you like me, alone, lonely and love writing but no one to write too, seek me out and if you relate and long to connect, build a personal fantasy with real friendship, real affection when it's equal the passion and the friendship, no limitations, create and explore with me. Email me, you woman, younger then me or older, single or attached, seeking a bonding, a connection that long term words of feeling can give, dream a dream and find solace in this together. Important that you can email on a regular daily basis and you love to write and want a friendship that is limitless with intimacy and caring, to feel s we write and give caring to each email we share with desire and interesting thoughts and feelings. Thanks for reading and hope to hear from you out there , Thomas
Updated since 2019-01-10 10:45:24
6 - Andrei (41/M) - 2019-07-19 12:18:03
Brazil
Email:
Languages:
Portuguese, English & French
Brazil box 560

Introduction:
Helloww folks ! Seek for pens in Japan, Oz, Germany, France as well. F v M no problem. Ages over 30 /60 . Let us share many topics over the email or whatsApp. Kind regards A tres bientot !!
7 - Alan (54/M) - 2019-07-19 09:31:59
United Kingdom
Email:
Introduction:
Hello! My name's Alan. I'm a fifty-four year old disabled man living in Wales, UK. I'm seeking online penpals only. My interests are varied, but I'm mostly interested in landscape photography, historical buildings, current affairs and computers. I'm willing to chat about most topics but not religion. I'd like to exchange emails (not daily) with sincere men and women from all walks of life.
Updated since 2019-07-19 07:26:28
8 - Jennifer (34/F) - 2019-07-19 09:09:37
Germany
Email:
Languages:
English & German
Hobbies/Interests:
music, letters, animals, walking, the mature, holidays, history, creativity
Introduction:
Instagram= sleeping. sun1985 Hey world. I love penpalling since I was 9 years old but sadly some give up after some letters. I'm searching for penpals for lifelong friendship worldwide. I'm in love with Croatia and will travel there the 4th time in September maybe for a 10 days holiday. Travelling means freedom for me because I lost my job in May and I'm at home often and feel bored and always look forward to it when I know I travel again soon. Any friendship books swapper out there? I'm Vegetarian since 1998
Updated since 2019-07-17 01:27:11
9 - Christopher (28/M) - 2019-07-19 08:54:55
Kenya
Email:
Languages:
English
Introduction:
Hey world I am an introverted person and currently looking for friends all over the world to socialize, and talk about any issues.. hit my inbox.
10 - Peter Clauson (52/M) - 2019-07-19 06:55:25
United Kingdom
Email:
Languages:
English
Hobbies/Interests:
Puzzles, movies, meeting people
4 meredith court
stansted Mountfitchet
essex
cm248gj

Introduction:
I am single and like to meet male and female from any country ages 25 years upwards to write to me about them selves and there country where they live so we can be friends. and also anything else you wish to talk to me about you can either e-mail me or snail mail if you wish you can ask for my mobile number and we can text Please can you print your letters
Updated since 2018-08-03 07:30:24
11 - Cherrykie Eleccion (43/F) - 2019-07-19 05:39:18
Philippines
Email:
Languages:
English
Hobbies/Interests:
travelling, sports, photography, music, swimming, watching sun sets, cycling.
Cherrykie Eleccion
Lower TV 5, Home Owners Association,
Camp Marina, Setio Kalubihan, Kalunasan
6000. Cebu City, Philippines

Introduction:
Looking PenPal for Lifetime Partner or Marriage,... I only accept guy who is older than me, ... ..... marriage minded, ... can come or visit over here in Philippines to meet me in Person,... as soon as possible,... Well, The qualities I seek for a man is: understanding, loving, caring, kind, gentle, sensitive on, sincere,.. can be trusted and faithful,....
12 - Anurag (21/M) - 2019-07-19 04:52:43
India
Email:
Languages:
English
Hobbies/Interests:
Philosophy, Gaming, Veganism, Animals, Tattoos, Cooking
Introduction:
Through most of my life I have almost impulsively isolated myself, for reasons I could never really articulate. And because of all that time when I barely had anyone to relate to or emotionally connect with, I ended up believing I was oh-so different and special, when I and my issues were just as ordinary as everyone else. With time I have actually managed to find some sort of peace in being so disappointingly ordinary, as being more like other people than I had allowed myself to realise makes me feel less isolated in a way. So why am I here? I guess just because I'm looking for a long-term friend who I could write letters to? Anyway, a bit about me: I'm 21 years old and work as a teacher and, in my free time, I'm an animal rights/vegan activist and an amateur philosopher. I live by myself in an apartment right now but I'm going to adopt a couple of really tiny rabbits real soon, so that's something I'm excited about. I like languages - specifically Farsi and Spanish - and I also enjoy cooking, eating out, riding my bike and reading: my favourite author is and always has been Dostoyevsky! Anyway, that's about it for me (at least for now) and now I'd love to know a little about you. Write me an email! :)
Updated since 2019-07-01 13:09:36
13 - sandra (65/F) - 2019-07-19 03:32:34
Australia
Email:
Languages:
English
Hobbies/Interests:
stemp collecting. doing crosswords. watching water sports and cycling. and watching football
Introduction:
hi iam sandra from sydney australia and divorced and a christian. nonsmoker and a nondrinker. 170cm and 60kg and have dark red hair. my job is working at a hospital in the kitchen and once a month work with a team to help the homeless to get off the streets to have a better life. like what i do. seeking only friendship and to chat. seeking male penpals who are honest and has a good outlook on life. have a great day and week
Updated since 2018-03-12 02:21:56
14 - Stephenie (40/F) - 2019-07-18 16:30:47
Canada
Email:
Languages:
English
Hobbies/Interests:
Write Letters, Read, Walking, Watching Movies, Swimming, Attending Church, Listening To Music, Visit Family And Friends, Write Poetry And Stories, Make Christmas Ornaments.
Introduction:
Hello I'm Stephenie I am 40 years old ... Looking for 4 E-mail Pen Pals 33 to 48 years old range of age... I am a Christian, Long E-mail Letter Writer, honest, compassionate, helpful, understanding and more. I ONLY WRITE WOMEN !!! MEN NEED NOT APPLY, PRISONERS, SCAMMERS & GREEN CARDERS IN TO CANADA move along thanks have no use for you. Only Long Term Friendships Need To Apply no one liners and no only a few e-mails and quit !!! I always answer I always listen I always have joys to share and sorrows at time. I have no time for DRAMA HEAD CASES, USERS OR ABUSERS.... Hope To Hear From YOU in my e-mail box :)
Updated since 2019-05-08 10:34:38
15 - Ddungu Ivan Barnes (30/M) - 2019-07-18 11:47:50
Uganda
Email:
Languages:
English & Other
P.O.BOX 35638 KAMPALA,
UGANDA.
EAST AFRICA

Introduction:
Am a tall dark complexion guy with sense of humor, free and open to every one. I am a shy guy that is still finding his way in life. I have in recent years had a many ups and downs along lifeís journey and I feel like I am just trying to find some firm ground. I am also trying to move past feelings of self-doubt and worthlessness, to a more positive view of myself as a person. I am flawed like everyone else, but I do have some good qualities to share with the world. I do like people, though I often hide myself away from them, for fear of judgement and ridicule. Hopefully in time I will learn to accept myself for who I am, without worrying about the superficial stuff so much? After all, we only have one life, there are no second chances. I like talk about a lot of things that interest me, some of it the stuff is controversial, but not always. I am not a bad person, but I like to be able to communicate freely, If anyone objects to anything I say, i prefer them to talk about it with me. One thing I am trying to do though, is to judge people more on actions rather than words. I have learnt recently that a gulf in opinion with others doesn't have to be a source of division. We are all people, with love and respect we can find some common ground. I am more than willing to talk with people that disagree with me on anything, provided they show me the same respect that I will afford them. I like music and have an interest in music, history, psychology, people and religion, I am a friendly, non- judgmental person.
Updated since 2013-11-07 15:05:19
16 - Harriet Nakutonga (62/M) - 2019-07-18 10:27:52
Zambia
Email:
Languages:
English
Hobbies/Interests:
Gardening, cooking Church going
Introduction:
I am a humble person, love to laugh, and I am a God fearing lady, very friendly. I am looking for such a one with similar qualities like mine. I am looking for friends world wide, would love to meet such a one soon Thank you
17 - Qader Samraie (39/M) - 2019-07-18 07:33:24
Iraq
Email:
Languages:
English & Arabic
Hobbies/Interests:
Friends .. wife
Introduction:
Hi, everyone! My name is Qader and Iím from Iraq I work in networking †I hope to find a woman who loves me From America or Canada, I try to speak English I love reading, traveling and listening to music qadersamraie@ yahoo. com
18 - Tatum (45/F) - 2019-07-18 05:46:26
Canada
Email:
Languages:
English
Hobbies/Interests:
Reading, Writing, Watching TV/Movies, Music, Animals, Gaming
Introduction:
Hi! I am looking for email pals only please. Your age, gender, location and situation aren't important to me but your personality is (also your ability to communicate in English as that's the only language I write well in!). I am open-minded and non-judgemental with a quirky sense of humor. We don't have to share the same beliefs or point of views and I don't mind rational discussion and debate but I'm not going to get into arguments about things either so... I listed some of my interests and it would be good if we had some in common, but differences are good too right? I am happily married with kids, I work, I'm a caregiver to my mother in law, I probably don't relax enough. Most of the time I feel way younger than my age except when I try to do as much as I used to 20 years ago, then I feel about a hundred! I don't expect your first email to dazzle me (hey, you're busy too and don't want to waste your time) but more than a line or two would give me something to work with. I won't be scammed so don't bother trying and honesty about who you are and what you expect goes a long way with me. Thanks for reading! Hope to hear from you soon and have a great day :)
19 - Colin Howard (31/M) - 2019-07-18 04:14:22
England
Email:
Languages:
English
Hobbies/Interests:
computers making friends
8 first street watling bungalows
consett
co. durham dh8 6hn
England

Introduction:
Hi my name is Colin im from England im single live on my own I am single have my own home. Im from north East England looking for female friends must be single white female & none smoker. I like to socialise with my friends, going on daytrips, nudity, & lots more. I only want to hear from females from England only as im not interested in overseas must be able to send a photo. Happy nudists welcome
Updated since 2018-09-11 04:15:08
20 - Edina (19/F) - 2019-07-18 02:20:08
Uganda
Email:
Languages:
English
Introduction:
Hey My name is Ed I would love to find email penpals from all over the world. Feel free to email me