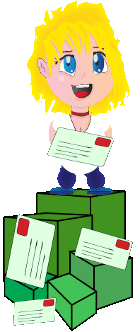 Sassociations -- Latest Ads
Page 1 ( 1 - 20 of 100 )
1 - Steven (45/M) - 2019-03-26 19:03:53
United Kingdom
Email:
Languages:
English
Hobbies/Interests:
Swimming, walking, cycling, coffee shops
Introduction:
Hi, Im looking for males any age for correspondence. I live in the Bedfordshire area. Looking for a good chat to put the worlds to right. Nice friendly easy going guy. Hope to hear from you soon.
2 - Marlin Bradway (31/M) - 2019-03-26 16:00:27
United States
Email:
Marlin Bradway c/o Mister Trenda
p. o. box 528007
Chicago Il., 60652

Introduction:
(Also seeking pen pal &/or confidant) I am a man looking to marry. I read, wade beaches, into loyalty, humor, & sharing with making moments to remember.
Updated since 2018-06-10 18:11:19
3 - Griffith A. Gabriel (27/M) - 2019-03-26 12:59:29
Ghana
Email:
Languages:
English
Introduction:
Hello, Greetings to you all.. My name is Gabriel. I'm a caring, kind and simple guy. In this world, everybody needs somebody to share ideas with, encourage, share special moments with and so on.. I would like to meet new friends to share with them everyday experiences, ideas, fun and more :) I love to do research, study online & wish to learn other cultures by making new friends. I wanna meet friends from all over the world irrespective of your country, age, color or whatsoever. We are all one people with the same red blood circulating in our systems. Just send me an email now and i will respond as soon as possible. I also like snail mail. its actually fun to receive letters with handwriting from friends. Just drop a message with a little self description if you find me interesting and let's start from there.. Waiting to read your email soon. Thanks!! Gabriel :)
Updated since 2018-02-20 13:20:15
4 - Miyuki (18/F) - 2019-03-26 12:01:19
Japan
Email:
Languages:
English & Japanese
Hobbies/Interests:
literature, sports, science, flirt, games
Introduction:
Hello world~ Miyuki is here. I'm 18 years old Japanese girl. Some random facts about me - I love sports, both playing and watching; my favourite food is grapes/bananas/ice cream, it depends on my mood; I like anything about the nature and animals; I have dark hair, brown eyes and slim figure~ I want to find a male friend for an interesting and special kind of communication, we can play "question or order" game for example. I prefer sporty guys, so I'm looking for a guy who have at least some muscles and six-pack abs, lol. Any country, 16-25 years old~ If you are interested and match my criteria, message me at my email. Add your photo (better a beach one, lol) and some words about yourself - age, country, the sports you play and so on. Sorry, but I'm not going to reply to empty emails with no photo. Well, I`m waiting for your messages~
Updated since 2019-03-16 21:59:53
5 - Bianca Ticoolly (27/F) - 2019-03-26 10:08:57
Brazil
Email:
Languages:
Portuguese, English & Spanish
Introduction:
I corresponded through letters to years and wanted loyal pen friends that my postal address was passed to people who want to exchange positive and happy letters with me;) I do birthday 21/03/1992 I accept the cards or letters of congratulations (laughs) respond with all affection and affection. I am Brazilian my address is : Bianca Ticoolly Caixa postal 5010 Vitoria-Es (Brazil) 29045-970
Updated since 2019-03-26 09:13:04
6 - Peter Clauson (52/M) - 2019-03-26 07:06:08
United Kingdom
Email:
Languages:
English
Hobbies/Interests:
Puzzles, movies, meeting people
4 meredith court
stansted Mountfitchet
essex
cm248gj

Introduction:
I am single and like to meet male and female from any country ages 25 years upwards to write to me about them selves and there country where they live so we can be friends. and also anything else you wish to talk to me about you can either e-mail me or snail mail if you wish you can ask for my mobile number and we can text Please can you print your letters
Updated since 2018-08-03 07:30:24
7 - zion21 (33/F) - 2019-03-26 06:28:24
United States
Email:
Languages:
English
Hobbies/Interests:
Literature, Computers/Internet, Cultures, Travelling, E-mail, Friendship, Flirt, Games
Introduction:
I have a requirement that you are interested in forming an intimate friendship and having intimate conversations. I just wanted to give you my definition of intimate conversations and the type of intimate friendship I am looking for. Unfortunately when one says intimate others immediately think sexual. An intimate conversation happens when people are either trying to form a relationship or have one. The noun 'intimate' means a person with whom one has a particularly close relationship. I am trying to form a close friendship relationship so I desire the conversations to be more than just how the weather is or what are you eating. When I say intimate I really mean that the conversations should be questions and answers about our lives, what is planned in the future, an intimate friend is someone you are not afraid to talk about anything to or ask personal questions. I never will start a sexual conversation, it will be at your desire. If you are a female and you think you would like to talk with me you just email me and we will see how it goes.
8 - Colin Howard (21/M) - 2019-03-26 04:38:00
England
Email:
Languages:
English
Hobbies/Interests:
computers
8 first street watling bungalows
consett
co. durham dh8 6hn
England

Introduction:
Hi my name is Colin im from England looking for new female friends only must be none smoker. I like making new friends with females only. I enjoy TV, Photography, music films socialising & lots more. If you wish to be my good friend then I love to hear from you from anywere any age. genuine replies only. colin. howard3576@ facebook. com colinhoward321@ gmail. com You may write or email me im also on hangouts & whats app photo would be nice so please try to send one
Updated since 2018-09-11 04:15:08
9 - sandra (65/F) - 2019-03-26 02:00:33
Australia
Email:
Languages:
English
Hobbies/Interests:
stemp collecting. doing crosswords. watching water sports and cycling. and watching football
Introduction:
hi iam sandra from sydney australia and divorced and a christian. nonsmoker and a nondrinker. 170cm and 60kg and have dark red hair. my job is working at a hospital in the kitchen and once a month work with a team to help the homeless to get off the streets to have a better life. like what i do. seeking only friendship and to chat. seeking male penpals who are honest and has a good outlook on life. have a great day and week
Updated since 2018-03-12 02:21:56
10 - tracy (50/F) - 2019-03-25 17:04:52
United Kingdom
Email:
Languages:
English
Hobbies/Interests:
card crafting, reading, scrapbooking, colouring , other crafts, writing, nature,
Introduction:
hello my name is tracy I am 50 years old . I am looking for penpals for postal letters by snail mail please females only please. I am interested in papercrafts card crafting scrapbooking , adult colouring books which I find very therputic making gift tags and bookmarks . I am always looking for different crafts to learn . I attend craft groups also I enjoy reading books and craft magazines . I enjoy writing letters to people and making cards to send them with letters if you think you can be a crafty friend through letter writing sharing projects and tips please email me so we can swap addresses please I love watching alsorts of dvds and watching tv lots to mention will save for the letters like lots of music also I enjoy holidays and museums and old buildings . I have a dog he is a springer spaniel age 3 I will leave it here for now and hope you will all email me soon thanks for reading tracy
Updated since 2019-02-24 11:20:31
11 - Taytay (16/M) - 2019-03-25 15:20:30
United States
Email:
Introduction:
I'm Taylor. Soon to be 16. I move around a lot and dont have a fixed address so I can only do email. I may be young, but I'm done with school already and have been all over the world. I'm looking for open minded people who won't judge me. I am always around people, but, no one I want to talk to. I'm pretty lonely and could use some friends. Don't be turned off by my age, I have seen and experienced a lot. I'm into music, art, and writing. Currently I'm in Dallas, Texas. I have no idea for how long, though.
12 - Shaylin Guadagno (16/F) - 2019-03-25 09:46:16
United States
Email:
Languages:
English
Introduction:
Hi, My name is Shaylin Guadagno. I am looking for a snail mail pen pal. A little about myself: I am very open minded, I like meeting new people and talking about various things. I like nature, photography, reading, history, playing guitar, and a lot more. I am bisexual. I don't mind what gender, age, race, ethnicity you are. . I want to get to know many people and possibly have a friendship with someone. If you want to be my pen pal please email me and I will get back to you when I can. Hope to get some pen pals!
Updated since 2019-03-19 16:10:08
13 - Thomas (42/M) - 2019-03-25 08:37:31
United States
Email:
Languages:
English & Other
Hobbies/Interests:
writing, music, movies, exercise, internet and gaming
Introduction:
Hi there you female writer, friendship for a day dreaming connection. Writing is fun and creative, so seek me out you female longing like me for a friendship that is more intimate and affectionate, caring. I am a sensitive and lonely guy, nice and my vision for this is specific. My name is Thomas, a Swedish guy in USA, and welcome to my pen pal ad, I love writing and if you do too, email me if you want a writing fantasy with person thoughts and feelings and not the usual about daily life. A fantasy in writing is about imagination of comfort, affection for the feeling and moments we create together long term. I want a intimate friendship with a woman that loves to write and for long term seeks a connection with me, sharing of words, feelings, the charm you have. In equal ways I look at the personal connection of feelings here, the depth of thoughts and the connection on an intimate level of caring. Are you like me, alone, lonely and love writing but no one to write too, seek me out and if you relate and long to connect, build a personal fantasy with real friendship, real affection when it's equal the passion and the friendship, no limitations, create and explore with me. Email me, you woman, younger then me or older, single or attached, seeking a bonding, a connection that long term words of feeling can give, dream a dream and find solace in this together. Important that you can email on a regular daily basis and you love to write and want a friendship that is limitless with intimacy and caring, to feel s we write and give caring to each email we share with desire and interesting thoughts and feelings. Thanks for reading and hope to hear from you out there , Thomas
Updated since 2019-01-10 10:45:24
14 - Scott (36/M) - 2019-03-25 08:33:28
United States
Email:
Languages:
English
Introduction:
Hey there. Divorced guy here looking for female pen friends. I`m very laid back and open-minded. I`m open to snail mail as well after we`ve had a chance to talk via email. Any adult female is welcome to write - race, age, location don`t matter to me. I like reading, writing, movies, just about any kind of music, sports and auto racing, travel, and lots more. I`m open to pretty much anything so drop me a line and let`s see where things go. :)
15 - ShahidMasih12 (28/M) - 2019-03-25 04:40:19
Pakistan
Email:
Hobbies/Interests:
Friendship , Serving The Lord ,
Introduction:
Hello Everyone ; I am Shahid from Pakistan ; I am serving the Lord through orphans and poor children and teach the Bible to the children each Sunday ; so I am looking here good Christian friends all over the world ; anyone can be contact me on my email address >>>> shahid. praise. the. lord10@ gmail. com
Updated since 2017-03-22 09:36:25
16 - PROPER MPEMBA (28/M) - 2019-03-25 03:40:40
Tanzania
Email:
Languages:
English
Hobbies/Interests:
football, friendship, relationship, travelling
Introduction:
hello, am Prosper Mpemba from Tanzania, a single man seeking some serious friends to teach KISWAHILI LANGUAGE,, if you are serious pls contact me, i hate scammers and fake people, no games here, pls contact me if you are a real and serious one,, can contact me through my whatsapp number, +255622529118, God bess you... here is my e-mail address, prospermpemba2@ gmail. com
17 - Robin (40/M) - 2019-03-25 03:06:20
South Africa
Email:
Languages:
English
Hobbies/Interests:
Fishing hiking
Introduction:
Hi everybody iam robin from cape town south Africa . iam a senior correction officer in correctional services for 19yrs. Seek female penpals from all over the globe! iam seeking to learn about different cultures especially Poland Norway n Belgium cultures.
18 - Brittany (33/F) - 2019-03-24 23:34:26
Canada
Email:
Languages:
English
Box 1481 sundre alberta t0m1x0 canada

Introduction:
I am not looking for a relationship. I am looking for someone to talk to, who will listen to me, and I will listen to them. Someone with patience as I am not always the best and responding quickly. Someone who may understand or relate to me. A great friendship, sharing things in common, someone to laugh with and cry with. Someone real, who isnt perfect, is weird like me. Someone I look forward to hearing from on a regular basis, who can bring a light into my life that seems to be lacking.
19 - Abby Campbell (18/F) - 2019-03-24 22:37:05
United States
Email:
Languages:
English
Hobbies/Interests:
Art, music, literature, cooking and baking
Abby Campbell
11619 County Road 219
Tyler Texas 75707

Introduction:
Hi! I'm Abby, a student in the United States. I live in Texas, and currently, spend most of my time studying. I love to read, I've got close to 1, 000 books in my room right now. I also enjoy art, most of what I do is tattoo design. When I'm not too busy, I also love experimenting with cooking. I would love to have snail mail pen pals, I'm not looking for email pals. Collecting postcards from all over the world is something I am working on doing!
Updated since 2019-03-24 22:34:44
20 - john (40/M) - 2019-03-24 20:21:36
United Kingdom
Email:
Languages:
English
Introduction:
Hi I am a 40 year old single male who would like to hear from a mature female who is interested in adult chat and general discussions.