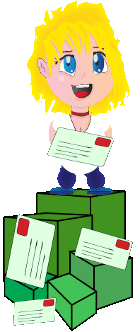 Sassociations -- Latest Ads
Page 1 ( 1 - 20 of 100 )
1 - Marlin Bradway (41/M) - 2019-04-21 15:31:24
United States
Email:
Marlin Bradway c/o Mister Trenda
p. o. box 528007
Chicago Il., 60652

Introduction:
Am into gardening, love the outdoors, love pets, love beach & casino.
Updated since 2018-06-10 18:11:19
2 - LaraLee (34/F) - 2019-04-21 13:40:59
Germany
Email:
Languages:
English & German
Introduction:
Hello everybody, I've been thinking about a funny and interesting introduction, which is different to everybody else, but at the moment I cannot think of one. So, let's start with the obvious: I am looking for penfriends from all over the word, who love to write and receive letters. I have loved penpalling since I was a little kid, but when I grew older I lost contact to most of my pals. I am looking for penfriends who want to talk about funny, sad and beautiful moments of everyday life. I want my penfriends to become part of my life and to become part of their lives - as real friends. The only condition I have is that you are female and at least 25! A little bit about myself: I am 34 years old and I live in Germany (a little town which nobody knows). My job keeps me busy but there are a lot of things I love to do in my spare time: reading, writing letters, meeting my friends, spending time with them and my boyfriend, taking my dog for a walk and much more. I am also very interested in politics. Penpalling is a bit like travelling around the world, so I can't wait to hear from people from all over the world. So I'd be happy to hear from you! Please send me an e-mail including more than three lines and I will reply!
3 - Ash (14/F) - 2019-04-21 13:19:13
United States
Email:
Languages:
English
Hobbies/Interests:
drawing, listening to music (kpop / top hits), talking with friends
Introduction:
Hi. My friends refer to me as Ash, but I call myself Mango as a joke. I like to listen to music, draw and socialize with my friends (although it's only at school). I, uh, don't have a lot of friends because 2019 you know, #NewYearNewMe haha. I'm usually alone a lot so I socialize with my friends at school whenever I can. I'm also looking for someone who would like to learn Korean with me or teach me Korean (because I'm a koreaboo jk). P. S. I'm actually really bad with checking my email because I prioritize school over this, so if I reply like a month or maybe 3 months later... yeah.
Updated since 2019-01-10 19:49:08
4 - Seeking Women Friends By Email Only (48/F) - 2019-04-21 10:04:25
United States
Email:
Languages:
English
Hobbies/Interests:
Reading, writing letters, emailing, coloring, writing in my journal, library, museums, art, nature, animals, stuffed animals, text messaging.
Introduction:
Updated ad 4/21/19 Hello: My nick name is Heather. I am engaged to the love of my life, happy with him. Not seeking a relationship. I am placing this ad, in hopes to make real true genuine friendships. Women only for lasting friendship by email only. I will not reply to men, prisoners, or scammers.. I will just delete. Also men contacting me on hang outs will be blocked 🚫 I have depression & anxiety. Would like to make friends with women between the ages 30-60, that has some of my common interests as well as has depression & anxiety as I do. I love animals. I have four pet betta fishes 🐟. As where I live pets are not allowed. Also to that loves animals as much as I do. I also love stuffed animals, I have a few. I also like to text. I am a faithful loyal pen pal friend. That always replies back. Seeking the same. I ask do not reply, if you are some one that emails a few times & stops. If that is you, I ask please do not reply. Some one that is able to communicate often.. Thank you for reading my ad. 🌸🌹🌸🍀
Updated since 2019-03-15 18:58:48
5 - Thomas (42/M) - 2019-04-21 08:51:29
United States
Email:
Languages:
English & Other
Hobbies/Interests:
writing, music, movies, exercise, internet and gaming
Introduction:
Hi there you female writer, friendship for a day dreaming connection. Writing is fun and creative, so seek me out you female longing like me for a friendship that is more intimate and affectionate, caring. I am a sensitive and lonely guy, nice and my vision for this is specific. My name is Thomas, a Swedish guy in USA, and welcome to my pen pal ad, I love writing and if you do too, email me if you want a writing fantasy with person thoughts and feelings and not the usual about daily life. A fantasy in writing is about imagination of comfort, affection for the feeling and moments we create together long term. I want a intimate friendship with a woman that loves to write and for long term seeks a connection with me, sharing of words, feelings, the charm you have. In equal ways I look at the personal connection of feelings here, the depth of thoughts and the connection on an intimate level of caring. Are you like me, alone, lonely and love writing but no one to write too, seek me out and if you relate and long to connect, build a personal fantasy with real friendship, real affection when it's equal the passion and the friendship, no limitations, create and explore with me. Email me, you woman, younger then me or older, single or attached, seeking a bonding, a connection that long term words of feeling can give, dream a dream and find solace in this together. Important that you can email on a regular daily basis and you love to write and want a friendship that is limitless with intimacy and caring, to feel s we write and give caring to each email we share with desire and interesting thoughts and feelings. Thanks for reading and hope to hear from you out there , Thomas
Updated since 2019-01-10 10:45:24
6 - Alexey Alimov (23/M) - 2019-04-21 05:03:51
Russia
Email:
Languages:
English & German
Hobbies/Interests:
Programming, digital technologies, travelling, foreign languages, interesting books, jogging
Boulevard Novatorov 92
Kv. 34
Saint Petersburg
198215

Introduction:
Greetings! I'm Alex. Nice to meet you! I'm 23 years old. I'm 185 cm height. I graduated last year from University. I love travelling and hanging out with my friends. Previously, I visited Sweden, Estonia, Finland, Bulgaria, Serbia, Turkey. If you want to exchange our life experience, you are welcome! Besides, I love learning languages, especially slavic group like Ukrainian, Polish, Serbian, Slovakian, Slovenian and Czech. Anyways, I learn German with my passion because I'm young scientist and engineer. Please introduce yourself in your first message. Write more than hi how are you. Drop me a word or a letter. Don't hesitate. Let's get acquainted! Thanks for your time my dear reader!
Updated since 2016-07-01 13:26:49
7 - Sergey (52/M) - 2019-04-21 04:10:35
Russia
Email:
Languages:
English & French
Introduction:
I am looking for friends for exchange postcards ( postal viewcards) and letter by snail mail)I am 52 years old and my name is Sergey
8 - T (37/F) - 2019-04-21 02:59:11
Australia
Email:
Languages:
English
Hobbies/Interests:
Snail Mail... Music.. Reading.. Crafts.. Netflix.. Movies..
Introduction:
Hi, I am 37 years old and engaged to the love of my life. I am on here to just seek pen pals via Email. I do not use any apps such as WhatsApp, Hangouts, Messenger and etc, just Emails only.. My interests are Music, Reading, Netflix, Crafts, Snail Mail, Emails, Spending time with my partner. I am not interested in seeking a relationship / Romance as i am already happy with who i am with. I am just looking to make some online friends, as i am not good with people in person due to my depression / anxiety , so that is why i am placing this ad, to keep in contact regularly. Preferably Female around my age but any one is welcomed, from anywhere. If you are interested in a long - term friendship , feel free to contact me. Just let me know you seen my ad here. Thanks.
Updated since 2019-02-23 00:49:38
9 - BruceHamby (58/M) - 2019-04-21 02:06:51
United States
Email:
Hobbies/Interests:
Gardening
Introduction:
Am into gardening love the outdoors love pets love old cars and motorcycles
10 - Jessica (35/F) - 2019-04-20 22:38:16
United States
Email:
Languages:
English
Hobbies/Interests:
Writing, reading, walking, traveling, cooking, crafting
Introduction:
Hello My name is Jessica, I am a 35 year old house wife and a mother 2 girls. I love to write, read, cook, walk, craft and travel. I would love to find a few snail mail friends (female) to chat with, perhaps exchange recipes and some post cards from all over the world.
11 - Beth (40/F) - 2019-04-20 21:47:25
United States
Email:
Introduction:
Hi my name is Beth I live in untited states I am 40 yrs old and live on my own with my cat Oreo. my hobbies are reading, word search's and craft making , I love to work out at the gym and take off on the bus every now and then. when im not working that is. I work partime as a dishwasher. I have no kids and I am not looking for a Boyfriend. just friends. so if your looking for someone who will listern to you or just need a friend email me. no guys please.
12 - Bestof me (20/M) - 2019-04-20 11:25:30
Uganda
Email:
Languages:
English
Hobbies/Interests:
Travelling, Eating, watching movies, partying, making new friends, swimming...
Introduction:
Rawr means hello in dinosaur RAWRRr! My name is Moses from Uganda, Africa. I like to meet female and male from any country. I don't mind about Nationality, RACE and Age. I am a simple guy and open minded. I like to travel to some parts of the worLd, I like watching movies, listening to music, hunging with friends and partying. Friendship and relationship I'm in. shy, intellectual, crazy and wild all invited, hot black and white girls I don't care just contact me via email. LET'S SPICE IT UP.
13 - Colin Howard (61/M) - 2019-04-20 05:27:14
England
Email:
Languages:
English
Hobbies/Interests:
computers making friends
8 first street watling bungalows
consett
co. durham dh8 6hn
England

Introduction:
Hi my name is Colin im from England looking for new female friends only must be none smoker. I like making new friends with females only. I enjoy TV, Photography, music films socialising being naked If you wish to be my good friend then I love to hear from you from anywere any age. genuine replies only. write or email. I am a full time nudist
Updated since 2018-09-11 04:15:08
14 - Sandra (19/F) - 2019-04-20 04:25:11
Uganda
Email:
Languages:
English
Hobbies/Interests:
Dancing
Introduction:
Hi am sandra. Am looking for for people to talk to. I don't mind about the nationality, race. So if you are ready email me
15 - Peter Clauson (52/M) - 2019-04-20 04:22:57
United Kingdom
Email:
Languages:
English
Hobbies/Interests:
Puzzles, movies, meeting people
4 meredith court
stansted Mountfitchet
essex
cm248gj

Introduction:
I am single and like to meet male and female from any country ages 25 years upwards to write to me about them selves and there country where they live so we can be friends. and also anything else you wish to talk to me about you can either e-mail me or snail mail if you wish you can ask for my mobile number and we can text Please can you print your letters
Updated since 2018-08-03 07:30:24
16 - Boyde Fields (54/M) - 2019-04-19 04:26:57
United States
Languages:
English
Boyde Fields
3060 FM 3514
1155010 Stiles
Beaumont Texas 77705

Introduction:
Just looking for friends to write and share with. I am outgoing, open minded, and talkative once I get to know you a bit. At first I am shy but come out of that shell rather quiclky. My nature tendds to be kind hearted and compassionate most of the time. Humor is a healthy part of friendship and I try to be witty when I can. I have always been a wonderful listener and do not mind being vented on when your distressed. I am 48 years old, divorced, caucasian with a Acadian French heritage or Cajun. I have 3 beautiful daughtrs, and spent most of my adult life working as a nurse. I spend much of my time looking for inner peace. I enjoy reading science fiction or fantasy fiction.
Updated since 2011-11-07 23:34:29
17 - Griffith A. Gabriel (27/M) - 2019-04-19 02:18:45
Ghana
Email:
Languages:
English
Introduction:
Hello, Greetings to you all.. My name is Gabriel. I'm a caring, kind and simple guy. In this world, everybody needs somebody to share ideas with, encourage, share special moments with and so on.. I would like to meet new friends to share with them everyday experiences, ideas, fun and more :) I love to do research, study online & wish to learn other cultures by making new friends. I wanna meet friends from all over the world irrespective of your country, age, color or whatsoever. We are all one people with the same red blood circulating in our systems. Just send me an email now and i will respond as soon as possible. I also like snail mail. its actually fun to receive letters with handwriting from friends. Just drop a message with a little self description if you find me interesting and let's start from there.. Waiting to read your email soon. Thanks!! Gabriel :)
Updated since 2018-02-20 13:20:15
18 - Miss Patty D.O (43/F) - 2019-04-18 18:23:29
United States
Languages:
English & Spanish
Hobbies/Interests:
art , arts and crafts , art galleries, movies, watching travel channel, the beach, reading once in while, listening to music & theme parksand I'm autistic, love watching documentrys on Travel , History , science , and outerspace.
5029 W. 139st
Hawthorne
California
90250

Introduction:
Update on 3-13-19 . Hello I remain single and not dating and I am a Roman Catholic & autistic & seeking for compatible friends ages 27-52 from Europe and USA . I am also seeking for an expert mechanic in the USA who would like to volunteer to come fix my 2001 Honda engine ok. It had 1 cylinder rusting and by now I think it got worse. It had been opened up to try to clean it manually as a result can't remember to put it back together again . Help. Anyways ... I need my car to go job searching again . Thanks . And No prison pen pals plz. Thanks .
Updated since 2008-04-09 06:20:02
19 - Jeremy jackman (30/M) - 2019-04-18 13:41:41
United States
Languages:
English
Hobbies/Interests:
Reading, Poetry
Prison Pen Pal looking to connect with mature minded women
Jeremy Jackman 1082643
P.O.Box 280
Polkton, NC 28135

Introduction:
Hi Ladies, I am a 30 yr old mail currently incarcerated, in NC. Look to find open minded ladies to write to pass the time. I am looking to build a great friendship with people, I would not normally connect with. I am very openminded and would love it if you gave me a change to get to know me/you. No strings...
20 - Jake (26/M) - 2019-04-18 07:58:24
United Kingdom
Email:
Hobbies/Interests:
tennis, sex
Introduction:
I'm a very horny, definitely straight 26 year old guy and I love having sexy fun with women. I'd love to write detailed emails to other guys about this and tell you of the hot fun I've had and maybe read about your experiences, but only if you want to tell me. Emails only, no photos or kinky stuff. So if you're interested then write to me.