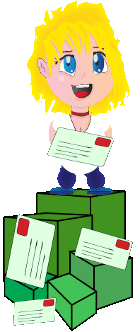 December 2017 to March 2018
Women 40 and more
results: 1 - 20 of 77
1 - Kasia (40/F) - 2017-12-22 14:30:46
United States
Email:

Introduction:
Hello My name is Kasia and I am a Polish female living in the States. I am on this website to hopefully meet people to talk to about interesting topics and share various ideas. I am interested in films, literature, non-fiction books, history, and culture. I am also a huge animal rights advocate and a vegan. I like spending time outdoors and be active.
Updated since 2017-12-22 14:30:06
2 - KELLIE M LENTZ (40/F) - 2018-01-17 18:21:18
United States
Email:
Languages:
English
Hobbies/Interests:
snail mail, gardening, scrap booking, family time, volunteering
4108 FAIRVIEW DR
TOLEDO
Ohio
43612

Introduction:
hello to all im kellie im looking for sincere snail mail pals who wont quit writing after a few letters i love meeting new people from anywhere around the world i promise to never stop writing so please lets become pals i am 40 next month i been married 16 yrs have 4 grown kids and few kitties
3 - KK (40/F) - 2017-12-18 22:54:54
Japan
Email:
Languages:
English & Japanese
Introduction:
Hello there! I'm writing this hoping to find some sincere pen pals. I'm interested in both e-mail and snail mail pals. I would like us to talk about all kinds of topics! It doesn't matter to me how old you are, where you are from, what you believe in.... Just no dirty talks, no romance. I'm a Japanese female, 40, married with a son living in Tokyo. I was born and brought up here. I like art, painting, all kinds of music, traveling, Japanese calligraphy, festivals, reading etc I have been writing to pen pals since I was 9 or so. So I guess I can say it's part of my life now. If you are interested, drop me a line. ( hopefully a bit longer than a line though ) Thanks.
4 - Mel (40/F) - 2018-01-17 17:06:46
United States
Email:
Hobbies/Interests:
travel, books, movies, 80's music, friends, and more
Introduction:
If you're looking for a friend who you can be completely yourself with and tell things to without being judged, I'm the friend for you. People often tell me that I'm very easy to talk to and I've always been kind and respectful to others. I have a corporate job, love to eat Reeses Peanut Butter Cups, love to go to comedy clubs, and love to be in nature, among other things. I've gone through some stuff in life, just like some other people, so I can talk about serious topics. I'm only looking for serious email pals, and if you love to ramble, definitely message me.
Updated since 2018-01-17 16:08:13
5 - Tarah Daniell Patterson (40/F) - 2018-02-22 05:53:03
Canada
Email:
Languages:
English
Hobbies/Interests:
knitting, crocheting, crafts travel, music, reading, watching television/movies, going out for coffee, tea, computers social media, spirituality
835 7301 Poplar Drive
Grande Prairie
Alberta
T8V 5M7

Introduction:
I'm a person with disabilities and self advocate activist who likes to make new friends and invest in long term relationships with all kinds of people and appreciates diversity and like minded people with similiar interests. I live in Canada and would like to meet a wide variety of people and know their stories and what makes them tick.
6 - Andrea Sager (41/F) - 2017-12-22 02:07:30
Canada
Email:
Hobbies/Interests:
Making home made cards collecting postcards
Introduction:
Hi my name is Andrea Sager and I would like some snail mail penpals from all over the world and these are my hobbies I like to sing listen to music spend time with family and friends and watch tv and DVDs this is my email address andreasager 145@ gmail. com From Andrea Sager
Updated since 2017-12-22 02:05:17
7 - Barbra (41/F) - 2018-03-28 19:45:53
Email:

Introduction:
My name is Barbra. Born and raised here in beautiful western Kentucky. Married 22 years this May with 3 kids 5 grandkids and one more on the way. My interests include cooking, reading, walking/hiking, crafting and recently sewing. I'm the type of person with an iffy filter between my brain and mouth. Looking for long term women snail mail pen pals only. No men and absolutely no prisoners. Hope to hear from you soon. Send email for snail mail address exchange
8 - MaryAnne (41/F) - 2017-12-26 01:53:02
United States
Email:
Languages:
English
Introduction:
I am 41 years old recently divorced raising my eight year old daughter I am here looking for some new friends that I can get to know and talk to hopefully someone that I can talk to on a daily basis maybe. I am looking for people to friend me on facebook for awhile, then maybe we can start snail mail. No one from overseas, in jail, asking for money or etc. In my spare time I enjoy reading, writing, facebook, anything that has to do with my daughter. I am open yo trying new things at times. Inwould prefer for anyone between the ages of 35-50 to contact me. Hope to hear from you all soon.
9 - Mirjam Barkerud (41/F) - 2018-02-18 04:59:13
Norway
Email:
Languages:
English & Other
Hobbies/Interests:
Knitting, music
Nybråtenveien 2
Eidsberg
Norge
1859

Introduction:
Hello! I am a 41 year old woman from Norway. Currently I stay at home with my 15 months old daughter, and I am enjoying every moment of it! I also have a daughter who is 10 years old, and a son who just turned 20. I am very interested in music and knitting, and I also love being out in the nature both taking hikes on foot, fishing and cross country skiing 😊
10 - nantaba dorah (41/F) - 2018-01-10 05:39:43
Uganda
Email:
Languages:
English
Hobbies/Interests:
nature, cooking, animals, travel, fun
p.o.box 6622
kampala
uganda

Introduction:
I am a single mother of one who would love to meet nice people from allover the world. I like knowing about other people's cultures and telling them about mine.
11 - REBECCA LYNN (41/F) - 2018-01-06 05:03:50
United States
Email:
Languages:
English
12 - Jenniffer (42/F) - 2017-12-04 14:05:32
United States
Email:
Introduction:
Hi I'm Jen I'm 42 years old I live in the USA, I have a lot of interest, that I'd love to talk about, with whom ever writes me, thanks jen
13 - Lisa (42/F) - 2018-03-16 22:01:12
United Kingdom
Email:
9 St Mary's Court, Upper Abbey Street
Nuneaton
CV11 5DP

Introduction:
Hello I'm Lisa I live in the UK I'm fun loving and genuine person I'm looking for postal penpals I love looking after animals Cinema Theatre Restaurants Days out Walking Meeting new people
14 - Anne (43/F) - 2018-01-27 19:43:07
United Kingdom
Email:
Languages:
English
Introduction:
I am a fun loving person. I am looking to meet pen pals who like travelling, photography, crafting, cooking/baking, spending time with family and friends reading, visiting museums and historical places. I also like learning about foreign and far-off places though letters, postcards, books.
15 - Clare Marie Lepley (43/F) - 2018-01-13 20:09:07
Languages:
English
Hobbies/Interests:
reading (fanfiction, books, ext.), writing Stories (resident evil stories), watching horror movies, and more!
Clare Marie Lepley (please txt me ok)
1572 Meisner Road #7
East China, MI 48054
586-430-6723 (Txting, USA ONLY 4 now anyway ok)

Introduction:
hi! im Clare, 43, live in Michigan! would like txting friends from USA ONLY. Please txt me for my postal mail, and we can exchange alot of Stories! i also like The Walki g Dead! im also looking 4 people who dont give up on there friends and just walk away from them. i have had that happen so many times. txt me and tell me all about you, and ask me lots of questions. i like long txt messages. please be Male/Females ages 35 to 46 ONLY. Please b in usa ONLY Thank u! clare P. S. I am also looking for USA pen-pals ONLY writing, and Txting and eventually talk on Land Lines. Please be Loyal, Honest, trustworthy, down to earth, loving, I am sick and tired of Men judging me because of the way I look, so I want Men who are Looking for a Woman like me! I am 267 lbs. ive lost over 90 lbs. I have been so hurt by Men who have belittled me, judged me, be cruel/say cruel things to me, and treated me like garbage. well i am not garbage, i am a Loyal, gentle, harmless, sweet, sincere, faithful, sensitive, and very passionate about Men, and what i do in my life. So if any Men out thare who can except me 4 who i am and not what i look like then please txt me and write me> Txt me and I'll give you my postal mail ok. I prefer TXTING/Writing letters. but to me txting is like emailing. Il be 44 on Aughust 6th. happy txting/writing. I would like Men to except me all of me even my faults, and wont walk away if i can't give them money, or bank accounts, or anything like that, i want to be told that Im beautiful, and im worth while, i dont get enough of that. It would be nice to meet some men who are tall like 6'4" to 6'9" i would like to meet Native Americans, and Americans like me, who want friendship and more down the road. no hurry and patiant, and understanding men are wanted. thank you. Clare also NO PRISONERS/SCAMMERS, i will delete them. thanks.
Updated since 2018-01-02 22:11:07
16 - Jessica (43/F) - 2017-12-29 12:28:23
United States
Email:
Hobbies/Interests:
British TV, cats & dogs, thrift store shopping, Facebook, travel, gardening
Introduction:
Hey, I'm a 43 yr old with Celiac disease, who is engaged to a great guy, I have two kids, he has two kids. I have a grandson who I love dearly. We have 4 cats, a dog and a turtle. I love to spend time in the gardening, watching British TV shows plus American Canadian and Australian. I travel when I can. I'd love to write other women who are interested in a back and forth on an almost daily basis via email or Facebook. Looking for those who are near my age and don't have issues with talking about daily life... the good and the bad. I love to chat and sinc eim a stay at home mom I have plenty of time to do so.
Updated since 2017-12-29 12:25:11
17 - Kiki (43/F) - 2018-03-08 03:13:08
Austria
Email:
Languages:
English & German
Introduction:
Hello everyone! My name is Kiki and I am a paediatric nurse. I am interested to talk with others nurses around the world. But I am also interested to start a long term friendship with anybody else, especially from Europe, Canada, USA and Australia. My interests are being outside, my dog, be with family and friends and so much more... Please don't ask for romance or money! If you need a girlfriend: it is easier to find one in the surrounding -believe me :-) If you need money: ask your friends or family, not me!!! Happy about your mails! Miles of smiles Kiki
18 - Sarah (43/F) - 2018-02-28 13:18:16
United States
Email:
Introduction:
hello Dear , I am good looking loving and gentle , i am from a family of three , i like reading on outing and sight seeing , i also like all that makes life what living , i am considerate cheaful and caring , i am down to earth
19 - Stephanie K Speth (44/F) - 2017-12-07 21:40:23
United States
Email:
Languages:
English
Hobbies/Interests:
Reading, Netflix, Walking Dead, Supernatural, sports, concerts, country music, sports
129 East 32nd Street
South Sioux City , NE
68776
USA

Introduction:
Petite, small town girl. Divorced but hasn't given up on love yet. No human children but I have fur babies, two cats, Bob and Tony. I work as a CNA for a nursing home so I am patient and caring. I love life! Adventurous, loyal with a sarcastic sense of humor. Looking for small town country boys to be my snail mail pen pals between the ages of 35 and 45. Flirting is a must and good handwriting. No inmates! Letters from inmates will be tossed in the trash so save the pen and paper.
20 - Jennifer Randolph (45/F) - 2018-02-23 22:48:37
United States
Email:
Languages:
English
Hobbies/Interests:
reading, crafts, listening to music, going to sporting events, practicing yoga, hanging out with friends and family
Introduction:
Hello! I'm a 45-year-old mom of two boys (12 and 16) and wife to my high school sweetheart - although it took us 25 years to find each other again! I teach middle school and our family also owns and operates a veterinary clinic. I love to read, listen to music, try out craft projects (although I'm not particularly good!), spend time outdoors fighting with our landscaping or just sitting on the deck, practicing yoga, watch sports and a few TV series, spoil our shelter dog, Rito, and hang out with my family and friends. I would like to be snailmail pals with other women ONLY from anywhere.
Updated since 2017-03-16 08:48:00