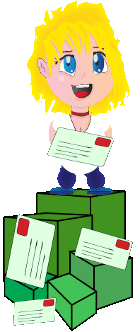 December 2018 to March 2019
Women between 25 and 39
results: 1 - 20 of 80
1 - Annabella (25/F) - 2019-01-25 15:58:39
United States
Email:
Languages:
English
Hobbies/Interests:
Positive energy, cats, philosophy, aliens, outer space, daydreaming, music, writing, fasting, video games, and a lot more!
Introduction:
Hi, I'm Annabella and I'm from the United States (cold, snowy Wisconsin) and I'm looking for a pen pal or two to write through postal mail preferably, but I'm totally cool with email to start! I'm 25, in a relationship (so please don't send romance letters) but am looking for a new friend or two to begin talking with! I'm a dreamer, a creative mind and have spent time playing with bands, writing (in my spare time), creating a website for the Arts, playing more video games than I should, and exploring life. My favorite authors are Clive Barker, Aldous Huxley, Albert Camus, and Stephen King. I listen to literally ANY type of music (except country, sorry!). I don't drink, due to bad past decisions, and love animals of any kind. Is that enough for an intro? I'm really not sure - but I am an open book! Feel free to send me a message to start and maybe we can move to snail mail pals in the future! Thanks for reading!
Updated since 2019-01-25 15:10:21
2 - Jersey (25/F) - 2019-01-09 15:17:03
United States
Email:
Languages:
English & French
Introduction:
Hello and thanks for looking at my add , well here goes... looking to find some new people to write to (email to snail mail). Iam down to earth who enjoy all kinds of things in life, from the countryside, camping, nice walks and the beach... ect So if you fancy a chat drop in and say hello....
3 - Kat (25/F) - 2019-03-18 06:10:40
Email:
Languages:
English
Hobbies/Interests:
Reading, writing, watching netflix
Introduction:
I'm Kat. I'm 25, but I've bet you've already figured as much, huh? I'm a fairly introverted person, so I thought that having a penpal to write to would be fun. Sometimes I think I was born in the wrong era, because I would much rather prefer a nice long letter instead of an email. There's just something about receiving a letter in the mail, right? I'm supposed to describe myself here, but I'm not really sure how to do that, so I'll start with the banalities: I'm a writer. Which basically means that when I'm not sitting in front of my laptop and vomiting words, I'm moaning and complaning that I'll never get the book published, that everything already has been written, or that my muse is dead. Are you a writer too? Would be really cool if you were, but if you aren't, that's fine too. I dont really care who you are, as long as you're nice and easy going and not in prison. Also, I'm not seeking after a relationship with a man (I've had a couple of emails asking about that)
4 - laeticia (25/F) - 2019-01-29 10:40:29
Togo
Email:
Languages:
English & French
Introduction:
want boyfriend whatsapp me 0022892625718
5 - Priscilla (25/F) - 2019-03-21 01:25:41
Ghana
Email:

Languages:
English
Hobbies/Interests:
Cooking, reading, music, movies etc
Introduction:
I am Priscilla from Ghana. I am very kind, honest, faithful and caring. I am new here looking for friends around the world and maybe more.. My email is parkerpriscilla777@ gmail. com Thank you
6 - sanduni (25/F) - 2018-12-29 11:46:28
Sri Lanka
Email:
Languages:
English
Hobbies/Interests:
arts, swimming, outing with frds, chat with frds
Introduction:
Hello dear friends, I'm Sanduni from Sri Lanka. I'm 25years old primary teacher. i like to meet new frds and share my life experience 😊. i like emails because it's easy to keep in touch with you everyday. My hobbies are swimming, arts, going out with frds, chat with frds etc. if u like to be my frd, old send me an email. waiting for Ur email 😀😀
7 - savov krastan (25/F) - 2019-01-15 22:43:31
Ivory Coast
Email:
Introduction:
i am savov krastan , caring and loving girl . savovkrastan@ yahoo. com
Updated since 2019-01-15 22:41:16
8 - ellaabfby (26/F) - 2018-12-11 16:17:10
Rwanda
Email:
Introduction:
someone caring
9 - Lily (26/F) - 2019-02-16 09:26:33
China
Email:
Languages:
Chinese & English
Introduction:
Hello. my name is Lily. i like reading and travling
10 - Masika (26/F) - 2019-03-17 06:28:40
Uganda
Email:
Hobbies/Interests:
Hiking, cooking, fishing, swimming, travelling, watching movoes
HOPEWORTH CHILDREN FOUNDATION
P.0 BOX 151, KASESE
UGANDA EAST AFRICA

Introduction:
Hello there, Am masika 26 years old nurse by professional. Besides I run my own charity organization. am a farmer I grow food like p. nuts, beans, cone , vegetables and I also rear chicken and rabbits. I can describe myself as a young hardworking young woman I don't like wasting my time in unproductive things. I have been doing this for the past 5 years with the support from friends and family Well, I don't have the strongest body in the world but own the strongest heart. I love to laugh make life light. just love fishing, cycling, hiking and nature. I also love enjoy reading, watching movies and balancing btn my work, family and social life. Some of my strengths: are to learn new things like culture from different country and new challenges. I would love to here from anybody. Scammers stay away from my profile. Am not here for jokes
Updated since 2019-02-11 09:08:18
11 - Shelby (26/F) - 2019-03-08 03:19:28
Canada
Email:
Introduction:
Hello! My name is Shelby and I'm from Canada :) I speak both French and English. I'm just looking to talk to anyone from around the world. The topics can be of any sorts! Language, recipes, culture, travel tips are more then welcomed. Feel to send me an email and if all goes well we could exchange addresses and send letters like the good old days
Updated since 2019-03-08 03:03:46
12 - Silje Tuften (26/F) - 2019-01-29 10:50:06
Norway
Email:

Languages:
English & Other
Snorresgate 13F
PORSGRUNN
3936

Introduction:
Hi my name is silje and is 26 years old come from Norway I was wondering if anyone would like to send gifts to me? any letter too?
13 - Vera Ampadu (26/F) - 2019-01-15 10:27:41
Ghana
Email:
Languages:
English
Hobbies/Interests:
writing, cooking, reading, internet, movies
Adisadel street
DL1141
Cape Coast, Ghana
West Africa

Introduction:
Hiiiii, Am Vera and am glad you took the time to read or see my profile. Am Vera and I will like to meet open minded persons for chat, friendship. I am in tertiary, work par time and also run a small soap making company when I am free. I will love to write letters and share ideas with anyone who wants to connect. You can send me email on veraampadu@ gmail. com. Thank you
14 - Jasmine Luwina (27/F) - 2019-03-13 05:01:25
Malaysia
Email:
Languages:
English & Other
Hobbies/Interests:
Writing letters, reading self-development books, singing, scuba diving, art and crafts, Watch Netflix, Going to Cinema
Jasmine Luwina
A609, Park Avenue Condominium,
Jalan PJU 10/1, Damansara Damai,
Petaling Jaya, 47810,Selangor, Malaysia.

Introduction:
My name is Jasmine, 27 years old, I'm married, born and raised in Malaysia. I'm currently working and I'm also a part time Degree student . (Major:Public Relations). I thought by having a penpal , especially by keeping in touch through snail mail would broaden my horizons and improve my communication abilities. I love to read and during holidays I will go for scuba diving activities. I wish to improve my level of fluency in english and at the same time, to learn other languages from all over the world. I am the kind of person who loves to receive postcards, snail mail , parcels from my international penpals, because I appreciate all those classic things. I am currently looking for penpal who can teach me Spanish, French, Japanese, Germany, Korean, Arabic and other languages. In return, I will be able to teach you Malay language and the Malaysian local dialect. I wish to have more snail mail friends from all over the world. Especially from Canada, USA, German, Korea, Japan, China, Sri Lanka, Australia, Thailand, Indonesia, Africa, Switzerland, Poland, Finland, Spain, Italy, and many more. Email me or send me a letter if you are interested to get in touch with me. I always reply to those who write me a letter, especially via snail mail. Cheers!
Updated since 2019-03-13 04:57:27
15 - Hayley (28/F) - 2019-02-26 19:45:07
United Kingdom
Email:
Languages:
English
Hobbies/Interests:
Reading, writing, going to Comicons, photography
8 William Sutton House
20 Tichbourne Street
Brighton, East Sussex
BN1 1TY, UK

Introduction:
Hi my name is Hayley, Iím also known as Mama Ogre (why cause Iím the mum friend of my friend group and I donít mind waking up ugly). I love writing and want to know about all the different places of the world from anyone and everyone of all ages. I donít mind prisoners or being a secondary language pen-pal but I might be a bit awkward with the second one. I hope to hear from you all soon.
16 - Jumanh (28/F) - 2019-03-08 15:16:56
Saudi Arabia
Email:
Languages:
Arabic & English
Introduction:
hello , i am human i am live in saudi i want speak english with you and i need support please .
17 - Kailyn (28/F) - 2019-03-02 15:32:21
United States
Email:
Languages:
English
Introduction:
Hello! Iím a 28 year old female from Maryland. I have one daughter and Iím divorced. Iím a only child and I live with my parents. We have two dogs. Iím very down to earth and I have a bubbly personality! I love snail mail you can get to know someone so much better and itís much more personal. I love stationery, washi tape, stickers, llamas, unicorns, pineapples!!! I started pen palling when I was a teenager but I got out of it for awhile. In my free time I enjoy going out to eat, coffee dates, shopping, the beach, the pool, listening to music, watching tv, spending time with my family. My favorite tv shows are this is us, a million little things, new Amsterdam, American idol, shameless, atypical, 13 reasons why, the Santa Clarita diet. If your interested please message me!
18 - Kyna (28/F) - 2019-01-24 12:43:33
United States
Email:

Languages:
English
4632 Tamara street, Homer, Alaska 99603

Introduction:
Hey! My name is Kyna or KC and I was born and raised in Alaska. I'm looking to make snail mail or email friends. I love to learn about other cultures and languages, going on adventures, taking pictures, drawing, writing, etc. I would love to find a person or two to send gifts, photos, neat things too and maybe get the same in return? Please note that I'm in a relationship and not interested in anything other than friendship. I have depression and anxiety so it can take me awhile to reply.
Updated since 2016-04-23 23:00:39
19 - Liza (28/F) - 2019-02-26 18:01:04
Russia
Email:
Languages:
English, Italian & Other
Hobbies/Interests:
Music, theatre and cinema, reading, travelling and sightseeing, geography, history, photography, sociology, philosophy and many more.
Introduction:
Hello there! My name is Liza. I'm 28-year-old, married female, living in Moscow. I am a geographer, a passionate reader and Art-lover. I'm looking for postal penpals (snail mail only) from all over the world (of any gender, race or sexual orientatin). I respect people, their views and ideas, never try to change smb's mind and await the same from the others. It would be great to find interesting people for a long-term friendship and correspondence on a regular basis. I love writing and receiving long, essential letters and hope to find good friends and soul mates.
Updated since 2016-03-12 15:32:56
20 - Masimbi sarah (28/F) - 2019-02-23 22:57:15
Uganda
Email:
Languages:
English
Introduction:
Am augadan lady looking for a female penpal around my age. am not here for love BT only friendship, f you are ready to use snail mail I will very Happy
Updated since 2019-02-19 09:36:51